Cub Scout Adventure Weekend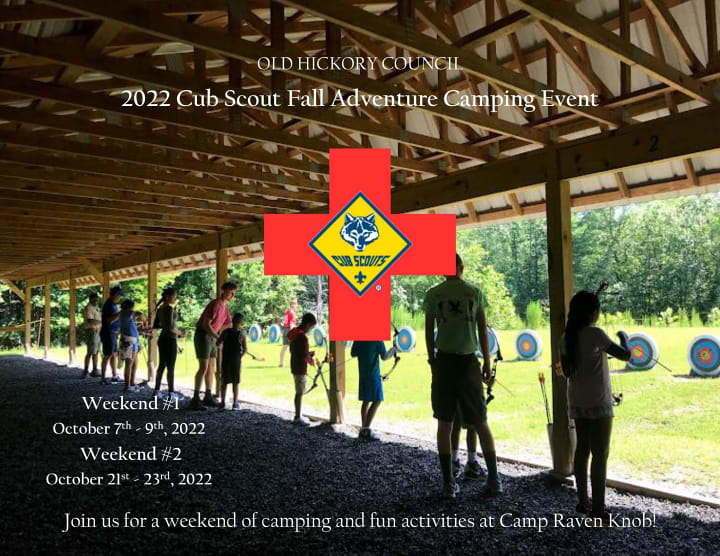 We are pleased to invite Cubs and their Parents/Guardians to a very exciting weekend at Camp Raven Knob! Last year we had another great year and hosted over 1,200 Scouts, parents & families! This event is open to all registered Tiger Cubs, Cub Scouts, and Webelos.
New for 2022, Fall Adventure Weekends will welcome the entire family. Please see details on the entire family attending in the notes below. Our goal is to provide a fun and safe weekend where Cubs and parents/guardians can enjoy Camp Raven Knob through a fun-filled day of events and two nights of camping with their fellow Scouts!
Under the new guidance from BSA National and the Age Appropriate Guidelines, Lions are now allowed to camp at Council Coordinated Activities. No separate registration is necessary.
Please review the Leaders Guide in the links below for more information and details. Registration will open on Monday, August 15th at 9:00am. Late fee will start two weeks before each event. Please make sure to update T-Shirt sizes for all participants.
IMPORTANT REGISTRATION INFORMATION
This is a family camping event. This event is for registered Cub Scouts, Parents, and Leaders-as well as any other siblings & family members. Packs should register their entire unit. Individual registration is not accepted for this event. All Old Hickory Council Packs have a registration account with Raven Knob. It is the same account you use for Weekend Reservations and Cub Scout Resident Camp. If you have forgotten your unit credentials or need assistance, please email the Camp Raven Knob Admin Team at registration@ravenknob.com.
Want to work as Staff for Fall Cub Adventure Weekends? Sign up HERE
Fall Adventure Weekend #2 Campsite Assignments: Updated 10/14/22
| Pack | Campsite |
| --- | --- |
| Pack 109 | Apache |
| Pack 221 | Buffalo Bill B |
| Pack 299 | Geronimo |
| Pack 333 | Seton |
| Pack 340 | Seton |
| Pack 412 | Wyatt Earp |
| Pack 538 | Catawba |
| Pack 545 | Piney Ridge B & C |
| Pack 556 | Ponca |
| Pack 715 | Dan Beard |
| Pack 721 | Sam Houston & Dogwood |
| Pack 728 | Kit Carson |
| Pack 731 | Nature Area |
| Pack 744 | Shawnee |
| Pack 749 | Knob View |
| Pack 752 | Sequoia |
| Pack 779 | Davy Crockett |
| Pack 911 | Buffalo Bill A |
| Pack 914 | Hilltop |
| Pack 918 | Sitting Bull |
| Pack 919 | Cochise |
| Pack 922 | Arapaho |
| Pack 934 | Crazy Horse A & B |
| Pack 940 | Knoll & Piney Ridge A |
| Pack 990 | Cherokee |