Cub Scout Day Camp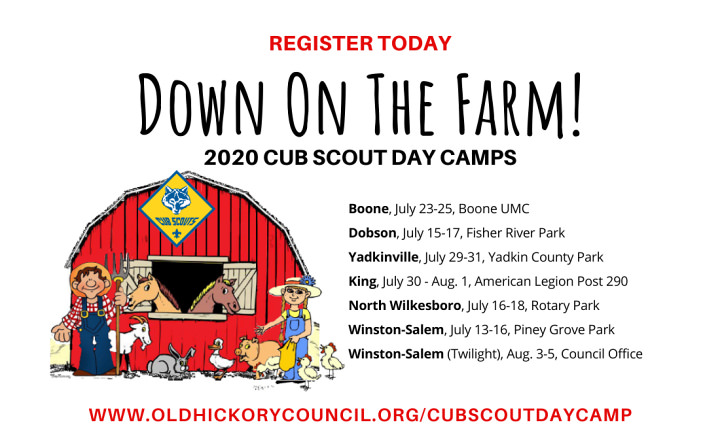 Cub Scout Day Camp and the Coronavirus
The COVID-19 Pandemic and the current stay-at-home restrictions have made life very different for at least the foreseeable future. We understand that you and your families are working through various challenges and decisions, as are we all. The health and welfare of our Cub Scouts and their families, our Volunteers and Staff are our top priority.
The Old Hickory Council is considering several health and sanitation related protocol changes that could make having a traditional Cub Day Camp possible. However, these protocols are not yet finalized and will be presented to the Day Camp Directors and published as soon as possible. Registration is open for all Cub Day Camps for mid-July thru early August. Should there be any cancellations or schedule alterations, they will be posted on this site.
Please contact Art Blackwood, Council Day Camp Advisor -
art.blackwood@scouting.org or call 336-391-6636
Registration Information
Let's have fun Down on the Farm! Registration links for Old Hickory Council Day Camps are below.
To register for your District's Day Camp, click the appropriate registration button.
If you have questions about Day Camp, reach out to the contact for that Day Camp listed on the Day Camps registration page.
If you have trouble registering with the form, please email the Camp Raven Knob Admin Team at registration@ravenknob.com for assistance.
Be sure to complete these important forms and bring them to camp:
---
Boone Day Camp
---
Dobson Day Camp
---
King Day Camp
---
North Wilkesboro Day Camp
---
Winston-Salem Day Camp
---
Winston-Salem Twilight Camp
---
Yadkinville Day Camp