Cub Scouts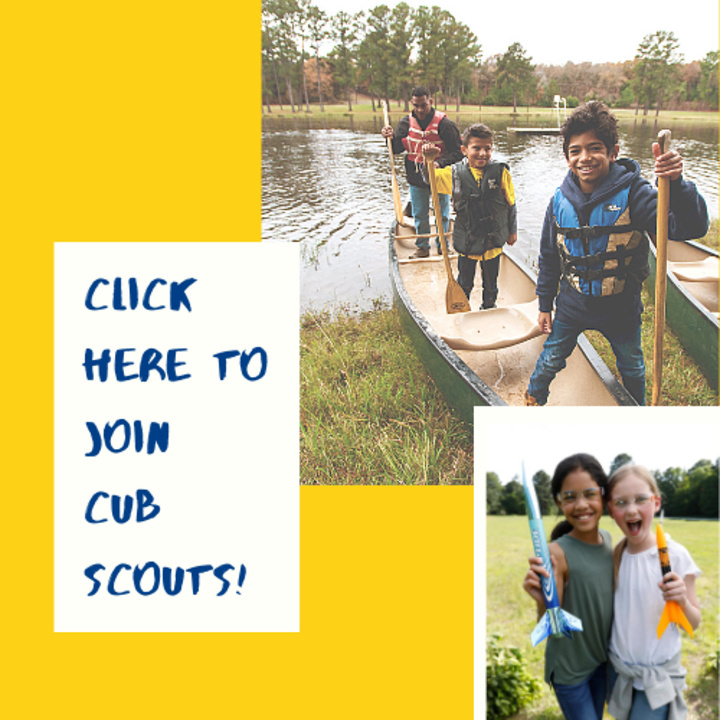 The Old Hickory Council Cub Scouting program encompasses the largest part of the council's Scouts and Scouters. The council has over 115 packs in 6 districts. That's a lot of Cub Scouts!
---
Aims and Methods
The mission of the Boy Scouts of America is to prepare young people to make ethical and moral choices over their lifetimes by instilling in them the values of the Scout Oath and Law. There are four aims of Scouting: citizenship, character, personal fitness, and leadership.
The methods of Cub Scouting are: living the ideals, belonging to a den, advancement, family involvement, activities, serving the community, and the uniform. Learn More
---
Benefits
Scouting works! Over the past several years Scouting has partnered with colleges, universities, and foundations to study the impact of the program. Scouting activities contribute to the academic development of the children who participate. In the elementary grades, the program is built around a series of theme-based explorations. As a Cub Scout advances, the requirements get more challenging, to match the new skills and abilities they have learned.
---
How Often Do Cub Scouts Meet?
Cub Scouts (boys and girls enrolled in Kindergarten through 5th grades - ages 5-10) usually meet 2 to 3 times a month during the school year in small groups (5 to 10 youth) called dens. Den Meetings are single-gender groups and are packed with fun, games, and great activities that can all be used to earn rank and activity badges.
Once a month all the dens gather at a central location for a gathering called a Pack Meeting. Pack Meetings are where the dens can show off the skills they have learned over the last month. Meetings are often full of cheers, songs, and skits. The highlight of the Pack Meeting is, of course, the award ceremony where the Pack leader, called a Cubmaster, helps the Den Leaders present the Scouts with their latest ranks and activity badges. For more details on the Cub Scout Family Program visit:
https://www.scouting.org/familyscouting/
---
If you would like to find out if there is a unit near where you live visit www.BeAScout.org
---
Here's a list of packs for 2021
| | | |
| --- | --- | --- |
| District | Unit | Chartered_Org |
| Blue Ridge 01 | Pack 109 | Boone United Methodist Church |
| | | |
| Dogwood 05 | Pack 505 | Level Cross United Methodist Men |
| Dogwood 05 | Pack 517 | Beulah Ruritan Club |
| Dogwood 05 | Pack 529 | Dobson United Methodist Church |
| Dogwood 05 | Pack 538 | First Baptist Church |
| Dogwood 05 | Pack 539 | Flat Rock Baptist Church |
| Dogwood 05 | Pack 545 | Pilot Mountain Scouters |
| Dogwood 05 | Pack 556 | Calvary Baptist Church |
| Dogwood 05 | Pack 561 | Fairview United Methodist Church |
| Dogwood 05 | Pack 596 | Methodist Men Of Central United Meth Ch |
| | | |
| Hanging Rock 04 | Pack 400 | Pinnacle Methodist Church |
| Hanging Rock 04 | Pack 408 | Palmyra Methodist Church |
| Hanging Rock 04 | Pack 409 | King American Legion Post 290, Inc. |
| Hanging Rock 04 | Pack 412 | Veterans Of Foreign Wars Post #11173 |
| | | |
| Laurel 06 | Pack 640 | Mt. Olive UMC |
| Laurel 06 | Pack 648 | Methodist Men-First United Methodist Ch |
| Laurel 06 | Pack 653 | Boonville United Methodist Church |
| Laurel 06 | Pack 655 | Yadkinville United Methodist Church |
| Laurel 06 | Pack 658 | Group Of Citizens Of Cool Springs |
| Laurel 06 | Pack 670 | East Bend Baptist Church |
| Laurel 06 | Pack 699 | Flat Rock Baptist Church |
| | | |
| Wachovia 14 | Pack 703 | Friedberg Moravian Church |
| Wachovia 14 | Pack 715 | New Philadelphia Moravian Church |
| Wachovia 14 | Pack 721 | Our Lady Of Mercy Church |
| Wachovia 14 | Pack 728 | Mt Carmel United Methodist Church |
| Wachovia 14 | Pack 730 | Holy Family Catholic Church |
| Wachovia 14 | Pack 731 | Clemmons United Methodist Church |
| Wachovia 14 | Pack 744 | Konnoak Hills Moravian Church |
| Wachovia 14 | Pack 749 | Ardmore United Methodist Church-Pack 0749 |
| Wachovia 14 | Pack 750 | Friedland Moravian Church |
| Wachovia 14 | Pack 752 | Lewisville Civic Club & United Methodist Church |
| Wachovia 14 | Pack 779 | Sedge Garden United Methodist Church |
| Wachovia 14 | Pack 813 | Galilee Missionary Baptist Church |
| Wachovia 14 | Pack 910 | St Pauls Episcopal Church |
| Wachovia 14 | Pack 911 | Knollwood Baptist Church |
| Wachovia 14 | Pack 912 | St. Stephen Missionary Baptist Church |
| Wachovia 14 | Pack 914 | Kingswood United Methodist Church Methodist Men |
| Wachovia 14 | Pack 918 | Pfafftown Christian Church |
| Wachovia 14 | Pack 919 | Olivet Moravian & Brookstown Methodist |
| Wachovia 14 | Pack 922 | Morris Chapel Methodist Men |
| Wachovia 14 | Pack 930 | Crews UMC |
| Wachovia 14 | Pack 934 | Mt Tabor United Methodist Church |
| Wachovia 14 | Pack 940 | Main Street Methodist Church |
| Wachovia 14 | Pack 990 | Pisgah United Methodist Church |
| Wachovia 14 | Pack 992 | Bethania Moravian Church |
| | | |
| Wilkes 03 | Pack 333 | Rock Creek Baptist Church |
| Wilkes 03 | Pack 335 | First United Methodist Church |
| Wilkes 03 | Pack 336 | North Wilkesboro Presbyterian Church |
| Wilkes 03 | Pack 340 | Roaring River United Methodist Church |
| Wilkes 03 | Pack 399 | Millers Creek Methodist Church |