Kodiak Challenge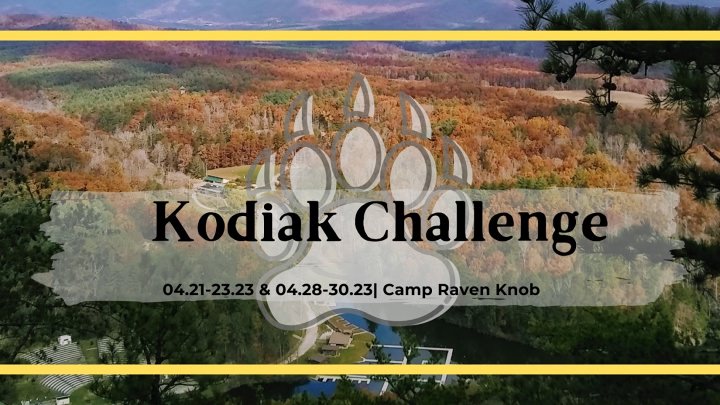 Kodiak 2023 at Old Hickory Council, BSA
Please RSVP by March 10, 2023 for planning purposes
Final Registration closes April 1.
Weekends are April 21-23 and April 28-30.
Pre-Trek Planning Mtg is April 2 online (link will be provided).
Staff Training is March 18-19 at CRK or online (TBD).
Post-Trek Debriefing is May 7 online (link will be provided).
Kodiak Challenge will take place at Camp Raven Knob on 2 weekends. You must be present at both weekends in person (Friday 6pm to Sunday 6pm) and also attend the online pre-trek planning meeting and staff training (if staff). Post-Trek debriefing is encouraged to complete your experience.
Kodiak Challenge is an adventure that will push the boundaries of Scouts in crews and ships who are ready for a leadership challenge. Venturers and Sea Scouts will be encouraged to try new things that may be out of their comfort zone. It is an experience—but one that has its underpinnings in the application of the leadership skills they learned in the Introduction to Leadership Skills for Troops (ILST) or Crews (ILSC), National Youth Leadership Training (NYLT), and/or National Advanced Youth Leadership Experience (NAYLE). It is, as is all of Scouting, an adventure with a purpose. Scouts should be prepared to participate in all planned activities including a new team-building adventure for us at the U. S. National Whitewater Center in Charlotte, including whitewater rafting, climbing and high COPE events, zip-lines, and hawk jumps, as well as closer to home at Camp Raven Knob, hiking with orienteering, one-night backpacking, mountain biking, boating, range sports, and an outdoor service project.
The Kodiak Challenge is taught by older/more experienced unit youth leaders to give participants experience in values and vision, effective teams, communication, decision making, and planning. The Kodiak Challenge is open to all registered Scouts male or female ages 14-20 in a Crew or Ship or Troop who are looking for an opportunity to grow personally. Scouts are expected to strive to achieve the above aims while living the principles of the Scout Oath and Law.
Registration: The cost for each participant Scout, including Scout staff, to attend Kodiak 2023 is $180. The non-participating adult fee is $85. This includes for all attendees a cracker-barrel on Fridays, all meals on Saturdays, breakfast and lunch on Sundays, and lunch at the Whitewater Center. Admission to the Whitewater Center is also included for all Scouts, while adults can optionally pay an additional $80 to participate in the Whitewater Center activities (total cost $165), or just observe/chaperone (total cost $85). Registration also includes a patch for all attendees, and upon completion for all Scout participants, the metal Kodiak award and certificate, as well as a commemorative bear-claw necklace. Registration can be completed individually or the unit can register together. Adult leadership from the unit is not required for participants to register, but units are encouraged to send an adult leader when possible, especially when sending more than 1-2 Scouts or a female participant. Kodiak recommends two registered adults over 21 per Crew of 8 Scouts maximum, with a female adult necessary if the Crew contains female participants. Our goal is to have 4 full Crews for this Kodiak. As we are opening this year to ScoutsBSA, please get your registration in soon, to guarantee you can participate!
Required Pre-Kodak Meeting: April 2, 2023, online. Details TBA. All participants are required to attend a pre-Kodiak meeting which will include a planning session. The participants in the adventure have a critical role in planning the Kodiak Challenge. Planning is a critical leadership skill, and each participant needs to play a role in planning for the success of the challenge. Participants will learn far more if they have ownership of the process from beginning to end.
"To register you must create a Tentaroo account follow the link below."