Scout & Family Ski Days 2021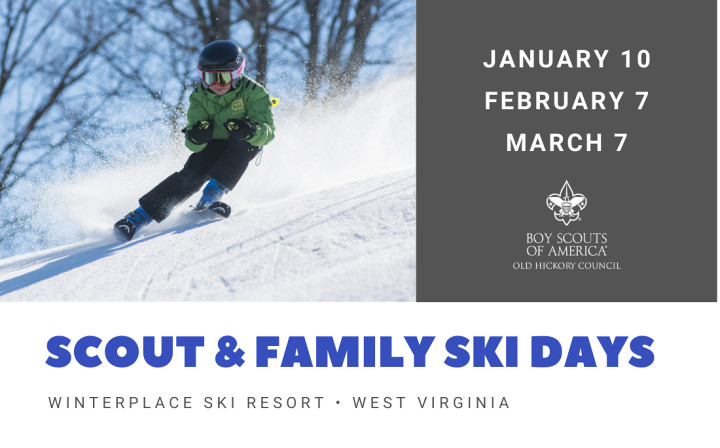 Winterplace Ski Resort
100 Old Flat Top Mt. Rd.
Ghent, WV 25843
Units are encouraged to attend as a group for the Winterplace Ski Trip. Family and friends can join your unit for this outing. Use these links for UNIT REGISTRATION:
*If the form does not provide enough spaces for attendee names, please complete an additional form.
Scout FAMILIES are also welcome to attend the ski weekends on their own. Use these links to sign up:
Please note that a Scout wishing to earn the merit badge may need to attend multiple times to complete all requirements.
---
Pricing
Ski Package is $75.00 and includes:
A full day (open to close) lift ticket
Ski rental equipment (boots, poles, skis)
Helmet
Customized 90-minute group lesson
Meal voucher
Snow Sports Merit Badge option at 10 AM, Noon, or 2 PM


Two-hour Snowtubing Package $36.00 includes:
meal voucher
additional hours can be purchased in 2 hour blocks for $28.00 per two hours
Add-ons & Upgrades:
Snowboard Rental (in addition to ski package) $10.00
Extra Meal Voucher $8.00
Special Add-on Snowtubing (2 hours snow tubing to your ski package) $28.00
REGISTRATIONS RECEIVED LESS THAN 10 DAYS PRIOR TO SKI DATE WILL BE ASSESSED A $5 LATE FEE PER PARTICIPANT.
---
Have questions? Contact Kevin Cheek email: kevin.cheek@scouting.org phone: 336-406-1414