Winston-Salem Scout Shop
Located in the Wachovia Scouting Center, Old Hickory Council, BSA
6600 Silas Creek Pkwy., Winston-Salem, NC 27106
Monday-Friday 9 AM - 6 PM, Saturday 10 AM - 4 PM
UPCOMING EVENTS
T-Shirt Blow Out 1/6 - 3/29
Cub Scout den shirts to Eagle Scout sweatshirts! Come and get them while we have them in stock.
Survival Essentials 2/3 – 3/22
Get all your survival needs from fire starters to compasses to Luci lights to water bottles, bladders and canteens to survival blankets to Leatherman's.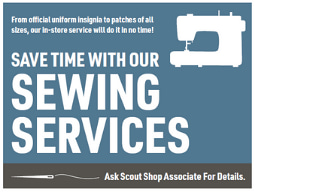 Now you can get your patches and hems done at the Winston Salem Scout Shop! Patches are $3.00 per patch and hems are $15.00. (Clean or New uniforms and sashes only.)
Please see store for details and forward to all your Scout Families!
---