Winston-Salem Scout Shop
Located in the Wachovia Scouting Center, Old Hickory Council, BSA
6600 Silas Creek Pkwy., Winston-Salem, NC 27106
Monday-Friday 9 AM - 6 PM, Saturday 10 AM - 4 PM
FALL EVENTS
Nov 4 – 24 – Campsgiving Sale. This is a new one for us. There are 20% off tags throughout our camping section. Choose any three of these items and receive 20% off on those. Of course, you may get more, but you have to get at least 3. Happy Campsgiving!
Nov 15 – Dec 14 – Annual Giving Tree – It is time once again for us to think of those Scouts who may need some assistance. The applications were sent out via email in October, with the deadline to submit Nov 15. The tree will go up on Nov 18 with the first name only of each Scout who has been submitted. You have until Dec 14 to purchase and then we call the leader to come pick up the gifts for a Christmas delivery. (I have attached the letter again here, just in case you missed it.)
Nov 18 – Jan 4 – Fall Thorlo Sale – purchase 2 or more pair of our very comfy Thorlo socks, and get 25% off each…or…buy 3 and get 1 free! Mix and match sizes and styles. Great stocking stuffer!
Nov 28-29 – CLOSED FOR THANKSGIVING – We will reopen on Saturday, Nov 30.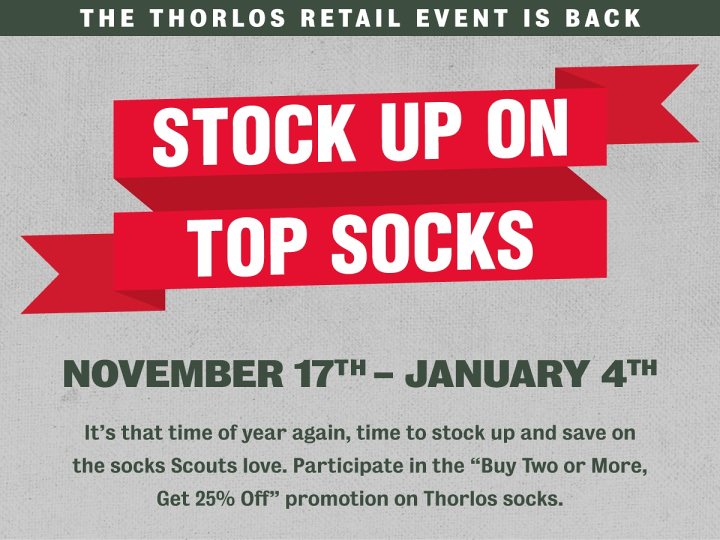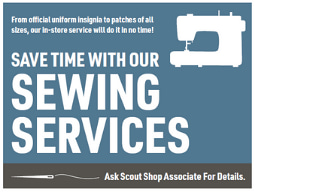 Now you can get your patches and hems done at the Winston Salem Scout Shop! Patches are $3.00 per patch and hems are $15.00. (Clean or New uniforms and sashes only.)
Please see store for details and forward to all your Scout Families!
---